STAFF
Rev. Ray Mendenhall
Pastor
Rev. Mendenhall is serving as our transitional minister while our Pastor Nominating Committee searches for a new permanent minister. Stay tuned for more information regarding this search.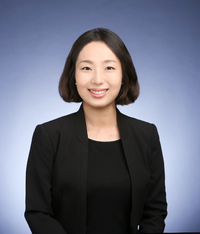 Hyunjin Kwak
Director of Music Ministry
Hyunjin Kwak, a native of South Korea, received her B.M. in Church Music with emphasis on Conducting from Presbyterian University and Theological Seminary in Seoul. In 2016 she graduated from the University of Louisville, where she had studied with Dr. Kent Hatteberg, with a master's degree in Choral Conducting. She has sung with various choral ensembles including the University of Louisville Collegiate Chorale, Cardinal Singers, and Louisville Chamber Choir. Upon graduation, she worked as an assistant director and accompanist at the Ballard High School in Louisville, and as an accompanist at Trinity Presbyterian Church and Pleasure Ridge Park High School in Louisville. Currently pursuing a doctoral degree in Choral Conducting under Professors Jefferson Johnson and Lori Hetzel at the University of Kentucky, she is a Teaching Assistant there, serving as an assistant director for the UK Chorale and UK Women's Choir. Since September 2017 Ms. Kwak has been the Director of Music Ministry at Hunter Presbyterian Church.
Allen Fletcher
Organist
Originally from Jackson, Kentucky, Allen Fletcher served as pianist at the First United Methodist Church of Jackson from 2009 until 2014. He attended Transylvania University and received a B.A. degree in History and Music Performace, studying organ with Richard Dwyer and piano/accompanying with Gregory Partain. In addition, he has served several churches and community choirs in the eastern and central Kentucky regions as a guest, organist, pianist, and accompanist. Since June 2018, he has been the organist/accompanist at Hunter Presbyterian Church and is also a Teaching Assistant in the Department of History at the University of Kentucky, where he is pursuing graduate degrees.

Lynn Davis
Administrative Assistant
Lynn joined Hunter in September 2014 as the Administrative Assistant. She also serves as the Office Manager at her own church, Pisgah Presbyterian Church and is an Equine Insurance Agent for Markel Insurance. Prior to her church work, Lynn was the Director of Sales for the Lexington thoroughbred farm, Darby Dan. During her spare time you will find Lynn volunteering at local horse shows, traveling and playing with her dog.
Kevin Eddy
Property Manager
Born in Charleston, West Virginia, Kevin Eddy grew up in Pikeville, Kentucky and attended Eastern Kentucky University. Kevin retired from the U.S. Military with seven years in the U.S. Marine Corps, and fourteen years as a sergeant with Kentucky Army National Guard Aviation, where he served as a Black Hawk Helicopter Crew Chief. Kevin also worked for twenty years as a warehouse manager for W. T. Young Storage Company but was downsized from his position in September 2009. Kevin has continued his love for sports as an official for the Kentucky High School Athletic Association and the National Softball Association. He was married twenty-nine years ago in the Versailles Presbyterian Church to Debby who is an industrial nurse for the J. M. Smucker Corporation and a native of Versailles. They have been foster parents for seven years for medically-fragile children, and maintain relationships with all of the children who have been in their home. Both enjoy travel and movies, and frequently travel to Columbus, Ohio to visit their foster son, Anthony. Also, they love animals, as many strays have found their way into their home. If you see Kevin in the building, please introduce yourself and thank him for all his hard work keeping maintenance costs low, working with contractors on projects, and looking for best solutions for keeping church buildings and rentals functional and beautiful.
CONTACT
(859) 277-5126
OFFICE HOURS:
Monday – Friday
9 a.m. – noon.
Lynn Davis
Administrative Assistant
office.hunter109@gmail.com
OUR LOCATION